Dinosaur Danger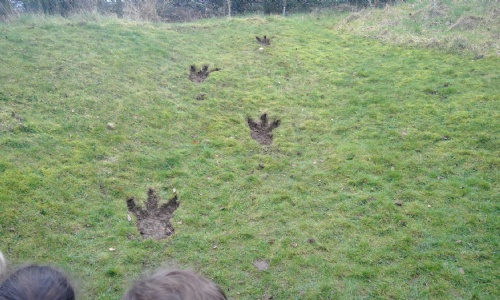 On 20th February 2017 we arrived back at school to find large footprints making their way up the bank, we set out to find who they belonged to.
Instead of putting everyone at risk, we made a plan to send one brave person out as bait. The bait stood in the middle of the playground for 10 seconds.
After the bait returned, we decided it was safe. We made a circle around Miss Morris to protect her and ventured to the bottom of the footprints.
We sent two volunteers to investigate the footprints, we ruled out a giant guinea pig and considered that our chicks may have returned but realised the prints were far too big. One of us exclaimed "It can't be an elephant because they have round feet!"
Next, we made the risky decision to follow them. We voted that a bigger group would be the safest option as long as we were quiet.
Suddenly, we had found something......an egg! After much deliberation we came to conclusion that it must be either a dinosaur egg or a dragon egg.
We took the risk and sent 4 people up to get the egg and bring it back to class.
We will now spend time exploring Dinosaurs to get to the bottom of exactly what this is!