My Lovely Science Festival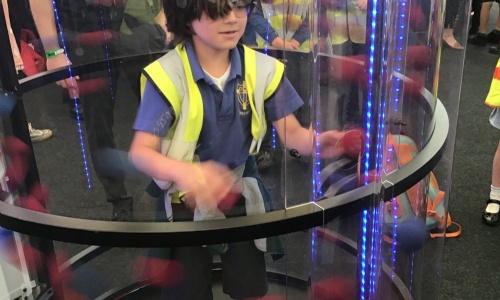 Written by Marlowe for the Golden Book and read out in worship.
My lovely science festival
First, I went on the coach with my partner, Rufus. The seats were a bit uncomfortable but we didn't mind. Then the engines started revving which means it was ready to go.
At the amazing festival
Then, we (and our group) got there, we went straight to Ted's moon adventure. It was fun and long with loads of games and showed us how craters were made.
The discovery zone (aka room with more Science)
When we walked in we saw a giant piece of bacteria. It had squidy air-filled things poking out of it. We poked it too....but a man said you were not allowed to.
TO LUNCH!
After that, we all went to the toilet and the boys (maybe girls too) toilets smelt like strong sherbert but it was very posh and it looked abit gross.
At lunch
It was a lovely tent which in fact looked like a PARTY tent! So we ate for twenty minutes and went back on the coach again.
At worship
We had a awesome time playing on the field instead of worship (even though I hardly remember it) Me, Bertie, Samuel and Soren played a werewolf game where if you get touched by one of the werewolves you become one.
At my great, full - of - lego and ginormous house
I stared at my mostly- glass door for a few seconds and walked in.