The good....amazing topic!!!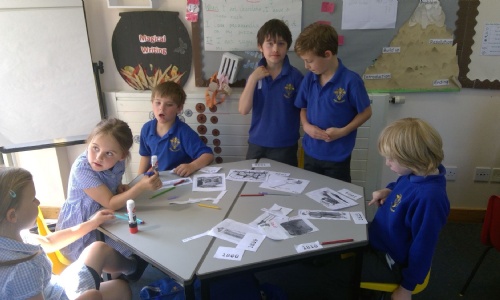 Written by Eddie and Esmae.
Here is a picture of us making a timeline of inventions as a group. We were great at collaborating!
First, when we came back to school from the Easter holidays we discovered a new topic. We were extremely excited.
Next, we went on the amazing, big field and a parachute floated down. There were two maps of Brimscombe and it showed the field and some treasure.
We were amazed, in the treasure there were pictures of lawn mowers, maps, coins and lots of green fabric.
We all thought why and when was this buried? We were super surprised so we all made maps with instructions for Mr Roberts. He told us that he wanted to find the treasure and we had taken it from him!
We thought how could we make instructions even better? We used our purple pens to check spellings and edit our work. We really enjoyed writing.
Then we found out that all of these things belonged to E.B.Budding. He invented the lawnmower and came from Stroud! He had the same Home Sweet Home as us! This is our topic!
We discovered he lived a long time ago and found out some more inventions that came about when he was alive including the lamp, battery, raincoat, tin can, typewriter, pedal bike, fridge and adjustable spanner.