Science Day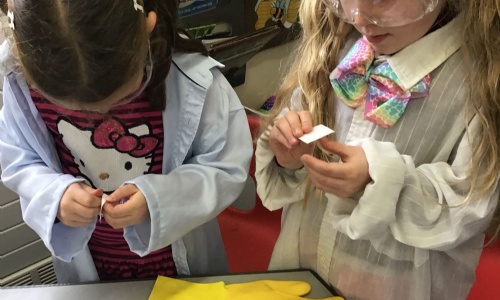 Written by Thomas, Timmy and Eddie.
Today was Science Day and we had an email from Tim Peake asking us to help him with some missions in space!
Mission 1 was to create some more astro-nappies for Tim Peake because he ran out. We had to tell him the best material to use. We found the best was green cellophane/ carrier bags and cotton wool pads.
Mission 2 was that Tim's glove had a tear in and he needed it for another space walk, we had to find how to fix it. We cut the top of the glove and we got different materials. My group cello-taped the different materials to the glove to be certain you have to blow into it and then wear it.
Mission 3 was to make shower gel as he had ran out. We made fluffy shower gel for Tim Peake, we got food colouring, baking soda, vinegar and also flowers and grass juice to make it smell nice.
Mission 4 and 5 was to make his boring food more exciting. We made raisins dance by putting them in sprite.
It was a great day!