Pumpkin (and carrot) Soup! (Also including Potatoes)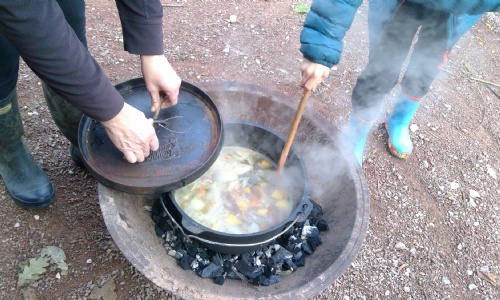 We have been learning how to write Instructions and on our Outdoor Afternoon we made Pumpkin soup using the vegetables we picked from our school garden. Elspeth has written some Instructions about this:
Date: 2018, November 5th, Monday
We needed:
Potatoes
Pumpkins
Carrots
Onions
Garlic
Vegetable Stock
Salt
Pepper
Butter
A knife
What we did:
1. First, we chopped the vegetables.
2. Then, we put the chopped vegetables in a bowl each.
3. Next, we took the pumpkins out of the bowls and took the skin off them.
4. After that, we put them back in the bowl.
5. A few seconds later, we tipped it all in the pot.
6. Then, we let it boil on the fire.
7. Meanwhile, the rest of the class made things (but not in real life) to eat it with such as: spoons, bowls, cups and plates and knives and forks as well!
8. After we had finished the soup turned out to be ready and Miss Morris said we could eat it for snack time the next day!
The End
Some people said:
'It's delicious!'
'It's nice and warm.'