2 mysterious boxes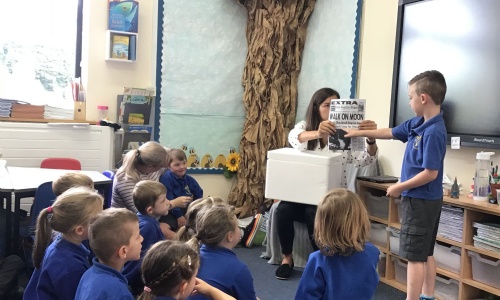 This week Mr Roberts had two boxes left in his office but was very and couldn't work out who they were from. He asked us to see if we could work it out.
One was old and wooden with a lock on. Inside there was a name tag with the initials CC. It had a message in a bottle, telescope, old map, lantern and a large bronze goblet. Some of us thought it was from a pirate, some of us thought it was a captain. When we read the message in the bottle we realised it was from someone who had travelled across seas to find new lands near America. The next box was white and more modern. Inside was a large helmet that read NASA and the initials NA, it had three rocket figures and some interesting sand/rock. There was a newspaper with an exciting headline 'Man on the Moon'. This made us think it must be from an astronaut!
We are going to do some more investigating to find out who these interesting people are. Do you have any ideas?