Go Wild!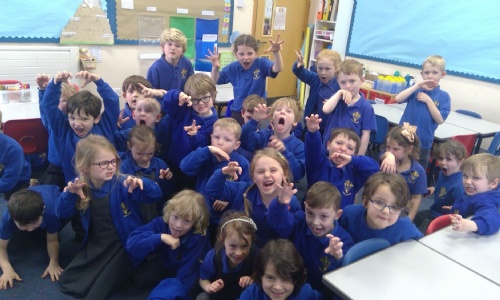 Today, we returned back to school to discover our new topic....Go Wild!
Written by Nancy:
Jambo! Our new topic is: Go Wild!
In doh disco Miss Morris gave us a clue to guess our topic but none of us noticed that. With our play doh we had to make some wild animals. Miss Morris asked 4 people to come up and show theirs. We had a curled up snake, robin, koala and an elephant.
Next, we took two fierce animal faces photos and Fin showd us how to be a tiger licking it's paw, most of us pretended to be a tiger or a lion but I was an elephant.
I asked people what they thought of our new topic:
Elspeth thinks 'It's great'
Jasper thinks 'It's fun'
Austin thinks 'It's amazing'
Mackenzie loves it.
Everybody thinks it's a miracle, great, miraculous, cool, out of this world, astonishing and lovely.