Learning about our eyes!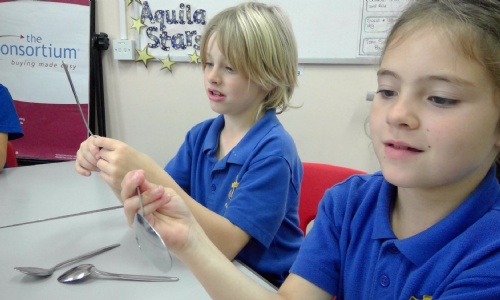 Aquila Class was lucky enough to have a visitor in class today in the form of expert optician, Mrs Julie Baines.
Mrs Baines brought an array of different activities for the children to explore and taught us lots of really fascinating facts about our eyes and how they work.
We found out the answers to some questions that they children had thought of such as 'What shape is our eye?' and 'How do we get colours in our eyes?' We found out the the coloured part of our eye - the Iris - is actually a muscle which surrounds our pupil and that when we see, the image is actually upside down until our brain switches it around.
These special glasses meant the children to see what it's like to live with damaged eyes. They found it quite difficult to see and realised that lots of everyday activities would be very tricky!
This activity was thinking about the different types of lenses we use to help our eyes see things even better. Some of the lenses were specifically designed to see close up detail which made looking at the flowers in detail much easier.
This activity had children thinking about why there is a rainbow on the surface of a bubble. This helped them to understand that the eye is a similar shape to the bubble. As the light travels through the surface of the bubble, the light splits allowing us to see the different colours.
Another acitivity linked to light and its colours was in a dark cupbaord! The children took a torch and a prism and attempted to split the light into its various colours on a paper background. It's more tricky that it sounds!
Finally the children were explore concave and convex surfaces using spoons. They were thinking about why the image is the correct way on one side of the spoon and upside down on the other. This helped them to understand how our eye, which is curved like the spoon, sees an image upside down before our brain adjusts it for us to recognise.
We had such a great afternoon exploring our eyes and how they work. Mrs Baines did a fantastic job of explaining it to the children and they thouroughy enjoyed every minute.
A huge thank you to Julie Baines and her resources!