Making Terrariums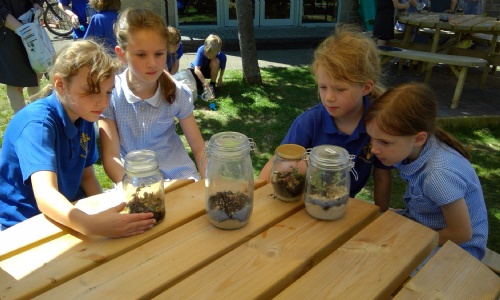 As part of of learning about rainforests, Aquila class made their very own rainforests in jars!
After our trip to the rainforest, we were excited to learn more about the plants that live there and the water cycle which sustains them. We decided to make our very own little eco-systems in jars to find out more!
First, we had to put in a layer of sand (for drainage) and soil (to help the plants grow and take root)
Next, we had to add our little plants in and add a few decorative items such as small stones and moss.
Finally, we watered our terrariums and shut the lid! We found out the the moisture from the soil will evaporate inside the jar. When it hits the sides and lid of the jar it will cause condensation to fall. When the water droplets get too big, the will fall back down to the soil, providing the plant with water. Clever huh?!
We had a brilliant time making our terrariums and they have really brought our classroom to life!