Outdoor Learning Day in Reception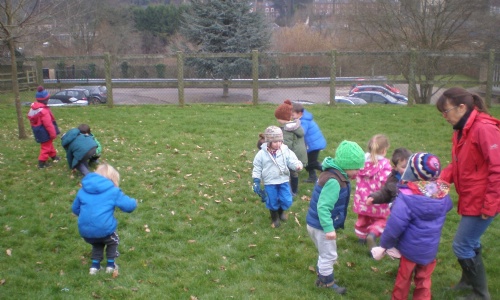 We were joined by Tamsin from the Stroud Valleys Project for our outdoor learning day.
Tamsin joined us today for the first of several visits. She is from the Stroud Valleys Project and she is going to help us complete 'The Wild Classrooms Project.'
Today we went on a search for signs of Spring. The children talked about the different seasons and what is changing in our environment at the moment as we move from Winter to Spring.
We conducted an experiment. We worked in small groups to create bird nests. We were given small chicks (which had hot water inside.) We put 4 of the chicks in nests that we had made and we left one chick out in the cold. After we had played a few games we went back to our nests to find out whether the chicks in the nests were the warmest or the chick left out alone. We were great at nest building as all of our chicks stayed warm.
We also went on a colour hunt and collected different colours that can be seeen outside at this time of year. We are going to do this again in Spring and see how it is different.
We had such a fun day and we can't wait to see Tamsin again.