My favourite memory...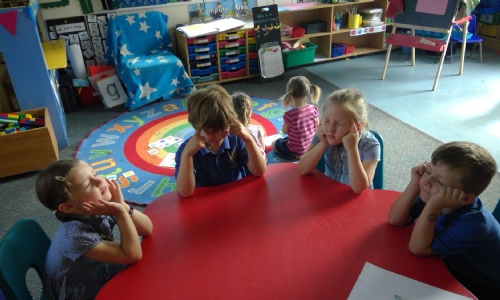 We talked about all the activities we have done and trips we have been on in reception, we also looked at our learning journeys. We have done so many wonderful things and learnt so much it was difficult to choose. These are our favourite memories...
Frazer - "My favourite thing was going to the pantomime, they were funny. I liked learning my sounds, now I can read with the teachers and my Mum."
Sophia - "I loved Pirate Pete coming to our school, he was so funny and he ran away with the treasure! My favourite, favourite thing was meeting all the lovely people and making them my friends."
Hannah - "My favourite things are going on the field and doing flips on the bar, and playing on the orange bike. I liked going fruit picking because I tried a new fruit called loganberries, they were yummy."
Frank - "My favourite thing was going on the swimming trip, we did a race using the floating frogs it was fantastic! I liked Mrs. A teaching me how to make paper aeroplanes too. I liked bringing home books to read with my Mum and Dad."
Alfie - "Pete!"
Sophie - "My favourite thing is when I called Mrs Newman and sat in Mr Robert's chair in his office, when I grow up I want to be like Mr. Roberts and be in charge."
Jamie - "I liked Pirate Pete he kept falling over and he fell asleep in the hammock, it made me happy and laugh. I liked swimming because we did fun games."
Stella - "My best thing was going in the golden book, I told Mrs B that I couldn't draw a car, then I tried and I did it."
Lilly - "My favourite thing was finding a door, it was a fairy door, there was lots of glitter."
Isabella - "My favourite day was pirate dress up day, I liked it because Pirate Pete cane to visit and he kept going the wrong way, I liked showing him my pirate story."
Bertie - "Pirate Pete."
Keaton - "I liked the Easter hunt because we had to find eggs, we went on the playground and in the garden, I was happy when I found an egg."
Eli - "My favourite thing was pirate dress up day, we got to meet a real pirate, we had been writing to him and he wrote back, he left messages in a bottle in the garden. I liked making dens in the mud kitchen."
Jagan - "My favourite thing was getting the new garden, there were lots of new things and I found lots of chuckypigs."
Esmae - "I've got a lot of favourite things, my best thing was (world) book day when the big children came in and read with me, I could read with them because I learnt to read in reception."