STEAM Museum Trip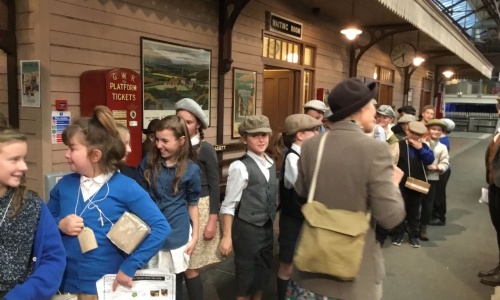 We had a fantastic time experiencing what life was like during WWII! We began the day by arriving at the train station ready to be evacuated to Swindon to visit the STEAM museum. We arrived in the station and enjoyed a short walk to our destination. We spent the first part of our day exploring the museum and learning all about Swindon's role during the development of the GWR and the factories use during the war!
After lunch we had a fantastic Air Raid session where we got to learn all about what life was like during the Blitz in WWII. The Shelter was so small and it could barely fit all of us in and it was supposed to hold 50 people! Following this we experienced what it was like for a child to be evacuated to the country. We boarded the train and took a journey through all the equipment that children had to take with them – gas masks looked so uncomfortable! When we arrived at our destination we were selected by our host adults and we went on our way.
Take a look at some of our pictures!
Please enter some content for your news story here.