Our Canal and River Walk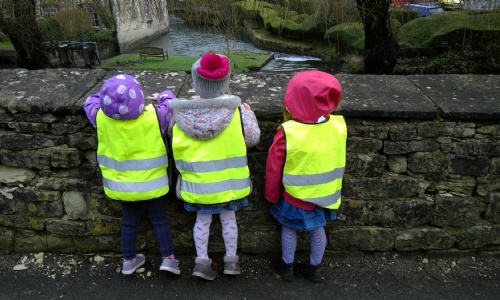 Today, as part of our 'Water' topic, we went on a walk along the river and canal next to the school.
We started the morning talking about rivers and canals and thinking about some of the things we might see on our walk. We thought about what we should do to be safe on our walk and then we put on our special clothes and headed out! There were so many things to see as we walked along including ducks, a moorhen, and a dipper. Mrs A and Mrs B held our hands so we could get close to the water and look at the sand and stones on the river bed and then we threw sticks and watched them float quickly down the river: they went very fast! A bit further on, we reached the canal and we talked about how it was different to the river: the water wasn't moving and the sides were made of bricks. In a special stone doorway next to the canal, we found photographs of what the canal used to look like and some leaflets with pictures of the canal which we took back to school so we could look at them whilst we had our snack. What a wonderful morning!