The Great Fire of Jellybeans!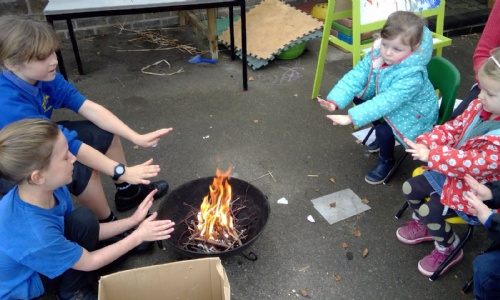 We spent a wonderful morning with Joe and Terrell from Yr 6 learning about fire safety and how to build a fire - and then how to toast marshmallows!
Jellybeans and Reception are learning about the Great Fire of London and fire safety this week and today the leaders of the school's Woodland Club joined us for the morning. Joe and Terrell started by explaining how to be safe around fires and we all listened very carefully. Then they explained how they were going to build the fire and we helped by adding small sticks. We watched as Joe lit the fire and we felt how hot even a small fire gets! Once the embers were ready, we learnt how to toast marshmallows. Joe and Terrell were experts and demonstrated what to do and then we did it all by ourselves! When we had finished, we watched as the fire was put out and then we went inside to have hot chocolate and more marshmallows - delicious! We finished the morning by creating beautiful pictures of flames using foam, paint and glitter (messy but lots of fun!) and then listening to a story about King Joe and Terrell the terrible, fire breathing dragon! What a fantastic morning - thank you Joe and Terrell!