Making playdough...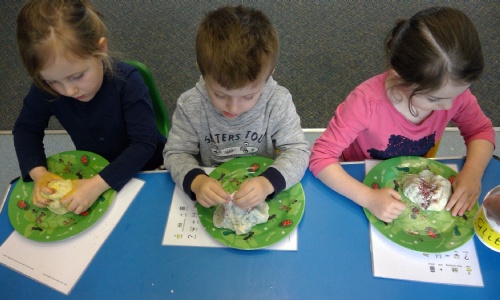 Today we followed a recipe...
...following on from yesterday, when Mrs A and Mrs B gave us verbal instructions to make a magic potion. Firstly we read the story of Little Miss Magic. We used different measurements, for example, one cup of flour, two pinches of salt and one scoop of oil. Today we had the recipe cards and 'read' out the instuctions.
Mrs A put the ingredients in the bowl and listened very carefully, (we did have to tell her to stop before she put an extra spoon of oil in!). We talked about how the little pictures help us to identify the words on the recipe and could even match the words on the recipe card to the packets.
After we had made the dough together Mrs A cut it up and we each had a piece, we chose what colours and smells we wanted, and added some glitter!
Finally we mixed together the colours and smells and took the recipe and dough home.