Learn Something New Day - Tie Dye...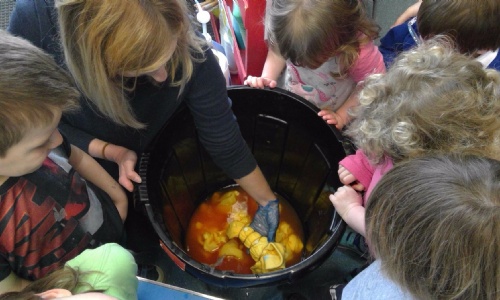 Today we have given some boring old white t-shirts a new lease of life...
We learnt that we can recycle old things and use them again. First, new paper out of old and now beautiful yellow tie dye t-shirts, inspired by Mr Happy and Little Miss Sunshine.
We started by stretching the elastic bands over small parts of the t-shirts to make patterns.
Then we made them wet...
We added salt to the big bin and then we had to add 12 jugs of water so we counted and told Mrs.A when to stop...
We added the dye to a jug of water and mixed it into the bin mixture. Then we added the wet t-shirts and watched them turn yellow...
We gave it a big mix and left it...
Mrs B rinsed them out and Mrs A has taken them home to wash and dry them, so we can take our masterpices home next week.
Here they are! Well done Jellybeans.