World Book Day Celebrations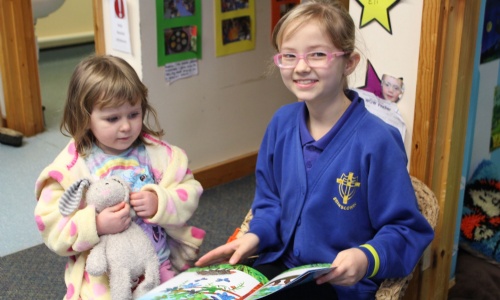 Today we celebrated World Book Day. All sorts of book related activities were planned . The day started with a whole school story told by 'Bill' our travelling story teller who told the story of Harriet the Hippo. Later in the day there was a book swap and cake sale. All around the school children were enjoying reading and reading to each other.
Today the 'book nook' in JellyBeans was officialy opened with pomp and ceremony.
Other celebrations included three competitions; extreme reading, bake a book themed cake and build a book scene in a box. Once again Brimscombe pupils showed off their creativity, skills and sense of humour with some fantastic entries. In the afternoon the children ( now in all manner of onesies ) enjoyed bedtime stories told by teachers with hot chocolate and biscuits. Well done to all those who took part and thankyou to parents who supported. All in all,a great day celebrating books.